FSB students celebrate success at HND graduation ceremony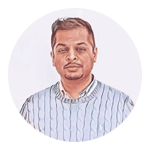 By Kunal Chan Mehta Article Date: 8th Jul 2019
FSB celebrated its 2019 HND graduation ceremony (20 June), honouring the remarkable academic achievements of its Croydon campus students.
In the presence of Cllr Yvette Hopley, Cllr Vidhi Mohan and senior management, FSB students were joined by family and friends to celebrate their success at a lively and grandiose graduation ceremony at the bespoke Croydon Conference Centre. The graduation marked an end – and also a beginning – for FSB's students.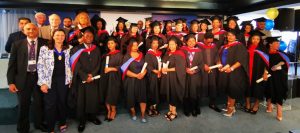 Jubilant FSB graduates pose with Cllr Yvette Hopley (left), Cllr Vidhi Mohan (far left) and senior management
Carla Goulbourne, a FSB HND Business graduate, said: 'Many of my fellow graduates celebrated their achievements on what is undoubtedly one of the biggest days of our lives. I thank FSB from the bottom of my heart for believing in me and helping me reach my goals.'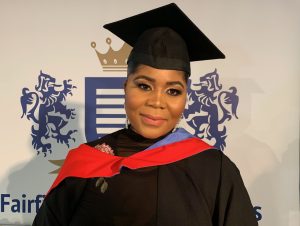 Carla Goulbourne, FSB HND Business graduate, stands proud on one of the most important days of her life
Leon Murray, FSB HND Business graduate, said: 'My course was intensive but with the support of my lecturers I was able to achieve my HND, and I am very grateful. I really feel proud today and look forward to undertaking a business top-up degree at FSB.'
Leon Murray, FSB HND Business graduate, beams with joy after receiving his certificate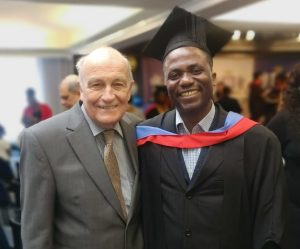 A memorable day and moment for Samuel Joseph (r) and Dr John Pomeroy, FSB's Principal (l)
Dr John Pomeroy, FSB's Principal, said: 'The recognition you receive is a result of your dedication and we all, at FSB, share an enormous amount of pride with you. Today marks an important milestone from where you will go on to successful careers or further studies. We are honoured to have had you as FSB students.'
Dhan Chooramun, FSB's Associate Dean, added: 'This year's success shows yet again that students at FSB can stand out through their commitment and hard work, which proves that widening participation is the core of what we do here. We are delighted with their achievements. I wish the graduates all the best for the future.'
FSB graduates were called to action by Cllr Yvette Hopley and Cllr Vidhi Mohan and asked to leave with full confidence and work as committed citizens that contribute to the community and country.
View our Facebook gallery for more student reactions from the ceremony.
Follow FSB on Facebook and Twitter for all of the latest news and updates from the #FSBGraduation.